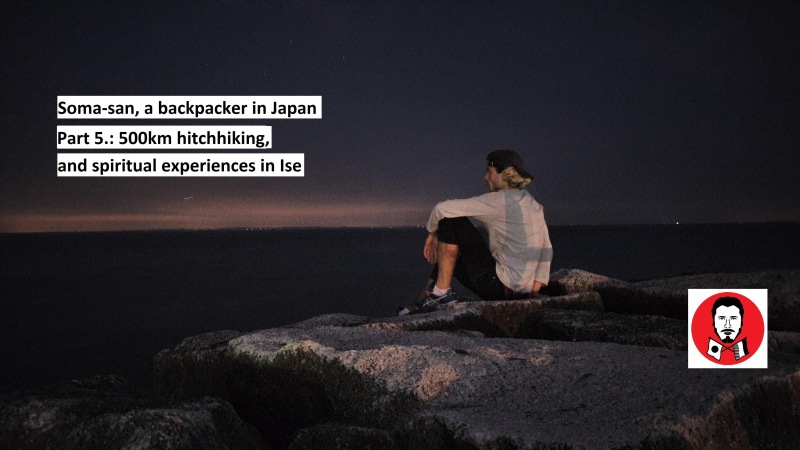 In the previous part we could read about Soma's adventures in Kamakura. About what an experience it was to swim in the Pacific Ocean, watch the fireworks and do a picnic together with a new friend or to spend a night in a tent on the shore of the ocean. In this part will be about an extra-long hitchhiking and the spiritual experiences he went through in Ise.

Kakehashi: How did your trip progress after Kamakura?
Soma: After I said farewell to the guy you got to know of from the previous part, I started walking towards the most important and busiest highway of Japan. After the terribly boring and monotonous 15 kms long walk, I started hitchhiking at Atsugi. After not more than 2 minutes, Tyson stopped and offered a ride for me. He is working as a nurse at the local hospital, and we managed to keep a conversation in English as he had lived in San Francisco and Taiwan for several years. 
This hitchhiking was one of the most important, for the following reasons. Until now, I just stood by the roadside and used the international STOP sign of hitchhiking and waited for someone to stop and give me a ride. On the contrary Tyson-san (there were and will be examples of this) stopped with me at the first store and bought me 2 bottles of soft drinks, and the most important supplies: 10 sheets of A5 size paper, a black and a red marker. He asked me where I am headed to, then he wrote down the expressions (words) that I would be using from now on:
Kyotoに向ってます。次のP.Aでも良いです。お願いします。= I am on my way to Kyoto. The next rest area is good, please.
From this time on I only had to change the "Kanji" of the next city (this writing style is coming from Chinese), and moreover 10 sheets were enough for 20 cities as I could use both sides of the paper. I used these sheets during my entire trip all the way back to Tokyo!
He dropped me off at an intersection where it was easy to access the highway. In like 30 seconds Kudo-san stopped with his semi-trailer (he was something! as a person) and told me that this is a bad place to stand so he will take me farther down the road as he knows a better place. He took me to the actual entry to the highway. 
There, after a half an hour long intermission, a nice lady offered me a ride, who promised to take me to the first main rest area. In the meanwhile, I saw it on her GPS that she took a 50 km long bypass just because of me. She should have taken an exit way before my rest area. We stopped at this huge rest area, and literally she pulled me behind by my hand and she searched for the word Kyoto on the license plate of the cars. She found a semi-trailer and asked the driver to give me a lift to Kyoto. This  is unbelievable. Unfortunately, this chauffer was on his rest period, so at last a family offered to take me. They could not take me all the way but at least they took me to Gunma prefecture.
When we stopped, this family also wanted to look around to find me the next ride. As they were travelling with two small kids, I told them that it is very kind of them, but they should go and let me handle the rest! Again, I was up for a longer waiting and trying to hitchhike and it the meanwhile it started raining, but I got lucky, and Takeya-san offered me a ride with his semi-trailer. Despite the fact, that he was younger than me,  he has already had two children. And he was on his way to Tottori (which I visited also at a later part of my trip). We travelled together for a good 2-3 hours, and during our trip, we stopped at a rest area to have dinner and to take a shower. Obviously, he paid for both even though I promise I tried to talk him out of it and begged him to let me pay. Later, he dropped me off just before Nagoya at a smaller village, because from then on he was passing the Biwa Lake from the North.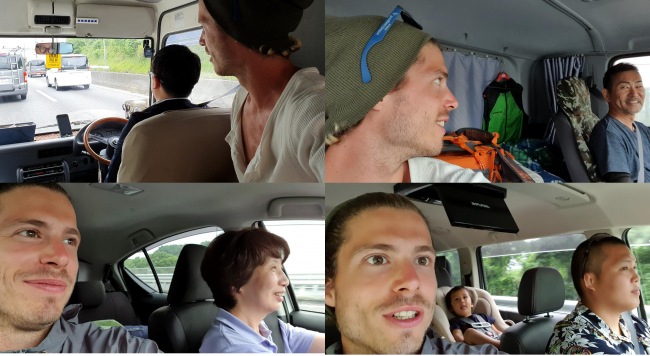 Top left: Tyson san, Top right: Kudo san, Bottom left: the lady, Bottom right: the family 
As I was at the beginning of my adventures I was afraid of putting up my tent in front of everyone in the rest area. So, I walked away a bit, and put my tent up farther down from them. I would not say that I was not excited and scared because I was camping completely alone in the forest on the mountain….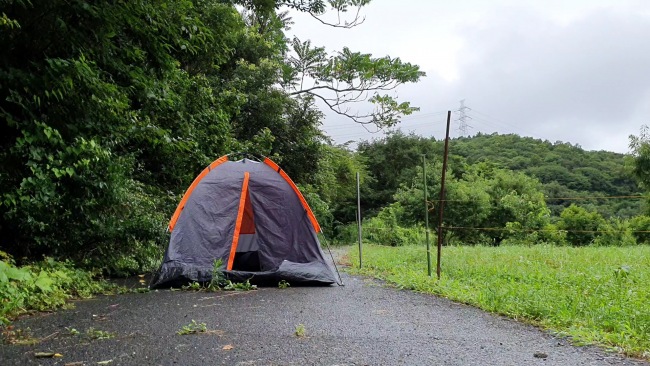 Camping on the mountain by the highway
Kakehashi: How did you realize that you were going to the wrong direction?
Soma: The next day I got up and looked at my chart, and finally I also check what date it was. And the penny has dropped as I realized that I miscalculated myself by a day and instead of Kyoto I should have been headed to Ise. It was pure luck that I recognized it because the highway splits at Nagoya and I was still ahead of that. So, I ate my breakfast, and I asked one of the shop assistants at the store in the rest area to write down the symbols for Ise. I even got some Japanese plum candy from them.
I was just walking over to the exit of rest area and removing my backpack and have not even raised my finger to start hitchhiking when a man and his wife stopped for me. Moreover, they were driving a 40 million Hungarian Forints worth of Mercedes. When I sat in, I could even smell the odor of the assembly line. I can say that my previous rides were not even tractors, but this was a very exclusive taxi, well… After them, I got a ride with a semi-trailer with Shinichi-san at the driver seat. Unfortunately, he dropped me off just in a huge rest area at lunch time, not to mention that it was 35 Celsius, thus I ended up hitchhiking for 3 hours. This was my longest waiting time during my entire trip in Japan. At last a 40-some old man felt pity for me, and took me along for a short distance.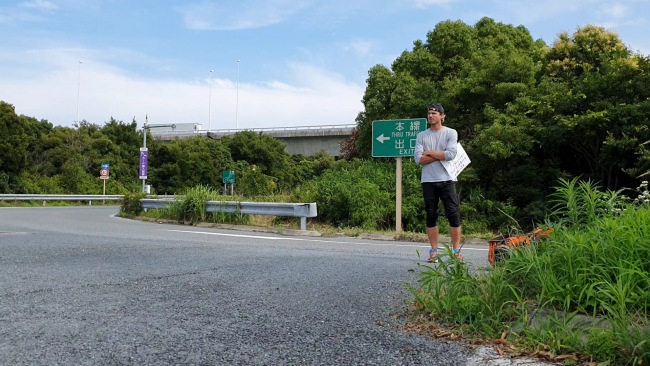 A seems to be never ending hitchhiking, unfortunately I do not have a picture of the person who gave me a ride.
Where he dropped me off, while I was walking towards the exit, an older man offered me a ride without the need of lifting my finger. Most likely because he saw the piece of paper hanging from my hand. He said that he will take me for a short while, but he will need to exit the highway before my destination. He moved over to a rest area and I was ready to open the door when he told me not to get out. He did not like this rest area, it seemed to be too small for him, and he was concerned that nobody would pick me up and offer a ride, so he decided to take me to Ise. I really cannot believe how nice people exist. He did not only take me to Ise, but all the way to the inner sanctuary of Ise jingu (Naiku), which was the reason of my trip. This is Japan's largest and most important, Number One Shinto sanctuary. The home of Amaterasu-Omikami Sun-goddess (the ancestress of all Japanese emperors).
I thanked him for the ride, bought my entry pass and walked right into the most dignified sacred place of the country. 
Kakehashi: How did you like the city and the sanctuary, and what adventures laid ahead of you in Ise?
Soma: It was gorgeous, in a perfect sunny and clear weather. You could walk into the sanctuary through a long wooden bridge which arcs over a river. Taking ts long walk over the bridge you felt  that you will enter the sanctuary purged out of your sins. Giant, sky-high trees, cicada concert and nothing else. I had the same feeling in Nikko. It was like suddenly I was dropped into a completely different world. To symbolize the time passing, every 20 years they demolish and rebuild the buildings.
 
A guy from Lithuania, kind of like a volunteer tour guide, explained lots of things to me, most likely he recognized that I am not just an average tourist. It was very kind of him. I was wondering around for an hour and a half, then I went to the outer sanctuary (Geku) which is located just at the other end of the city. I had to hurry because it was an hour away and it was closing at half past seven in the evening. It was also getting dark. Thanks God it was not as big as the previous one, so I was able to complete my tour in time.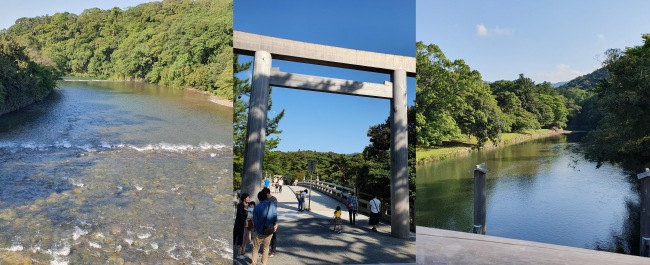 The torii (river) of Ise Naiku, and the 100 meters long wooden bridge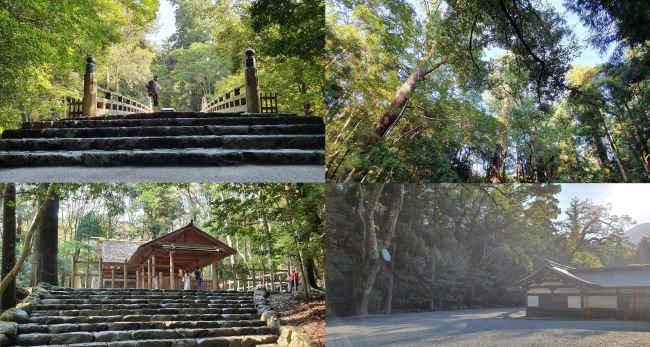 Ise jingu
There was only one more scenic sight to be seen, namely the Meotoiwa. These are two rocks (Futamigaura) in the ocean which are connected by giant braided bast made of rice (shimenawa). Of course, it laso has a meaning, namely it symbolizes the love of God Izanami and Izanagi who created Japan, and who were siblings. The Lithuanian guy mentioned that I should see this at dawn because it is the most beautiful at the time, but to be honest it is also the most crowded too as everyone wants to see it. Unfortunately, I wanted to leave the next day, so I stayed to see it at sunset. While I was buying dinner in a small shop next to the Geku, I guy started a conversation with me.  When he learnt that I am on my way to the Meotoiwa, he mentioned that it is 10 kms away from here, so I should not walk there, rather he will take me there. 
Kakehashi: What kind of thoughts were whirling in your head?
Soma: When I reached the shore of the ocean, I already felt that this evening will compensate for the two days trip. The illuminated pair of rocks had a spectacular and grandiose view even in the dark night. Do not take me wrong, this trip was not planned to be an enlightening process for me. But I wanted to visit those wonders which are exceptional even for the native Japanese and are not part of the mainstream tourist attractions for the foreigners. I was curious about spirituality and even if this was the physical manifestation of beauty, it intensified the desire. Ise was just like this. It is not a tourist attraction, far from the larger cities, not much to see. But all the more, it has a message.  This is the reason why I came here. Later, when I was talking to local citizens or any Japanese, they showed deep and great respect because I was interested in the most hidden but real treasures and values of their culture. I was not interested in their story which is advertised or presented by National Geographic or Instagram  but more interested in who they really are. Not only their history, their past but their present and their soul! And maybe this is what they honored all the time by giving me small presents during my trip. Japan is a proud and grateful nation!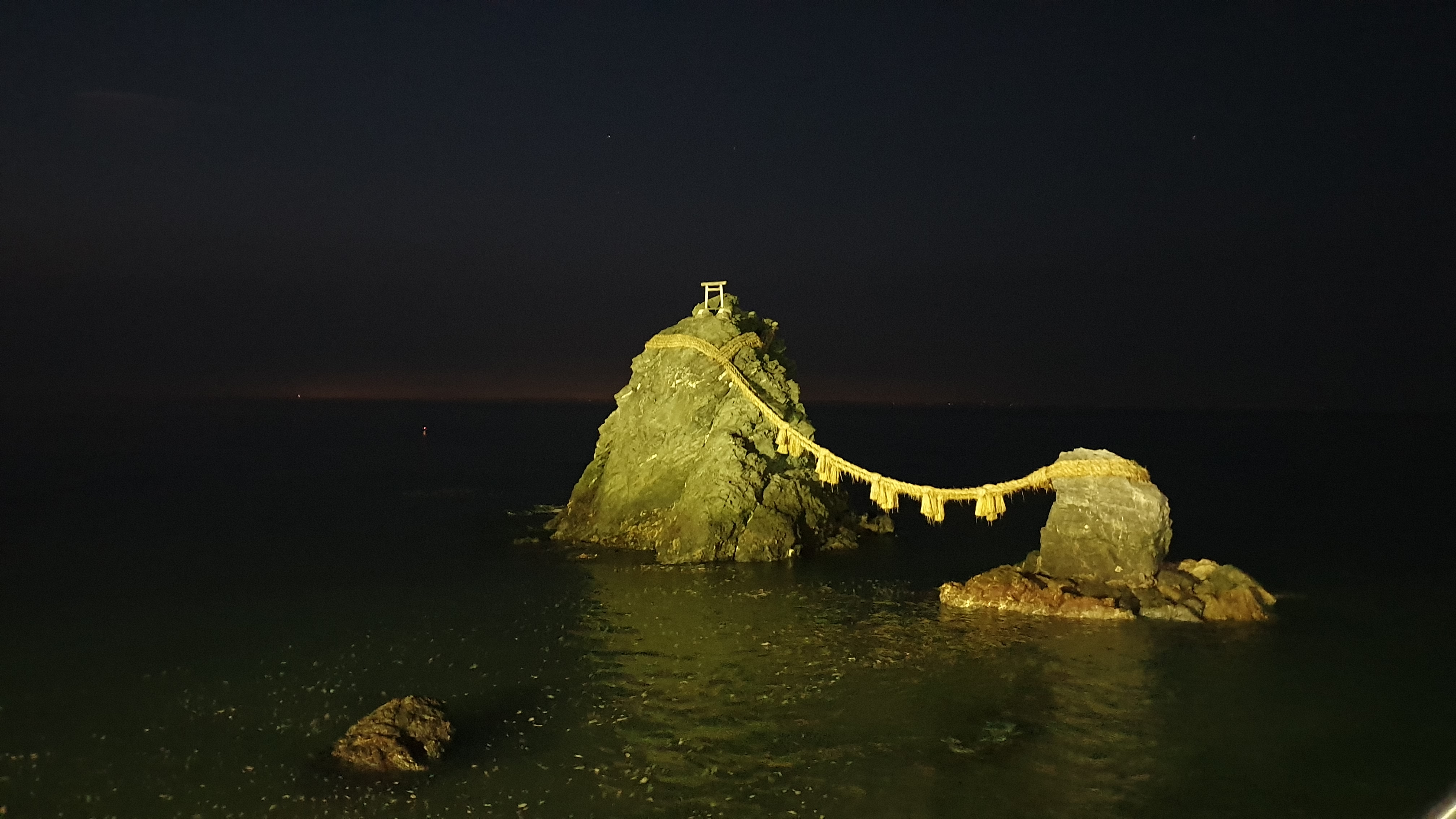 Meotoiwa
I ate my dinner sitting on the pier, in front of me was Meotoiwa, and in the background the view of the dreamy boats of the Ise bay, illuminated by the lights of Nagoya city. This was an iconic moment for me. It felt like I was in a movie. It was a peaceful, sentimental view. (please see the cover photo)
I knew that I cannot sleep here, so I was trying to find my way back to the highway so I would not need to walk too much in the morning. I found a closed car dealership, which I liked very much. But I saw a spider the size of my palm. It seems like Naraku collected the chips of the sacred gemstone in front of Inuyasha and Kagoma … At last, I did not sleep here.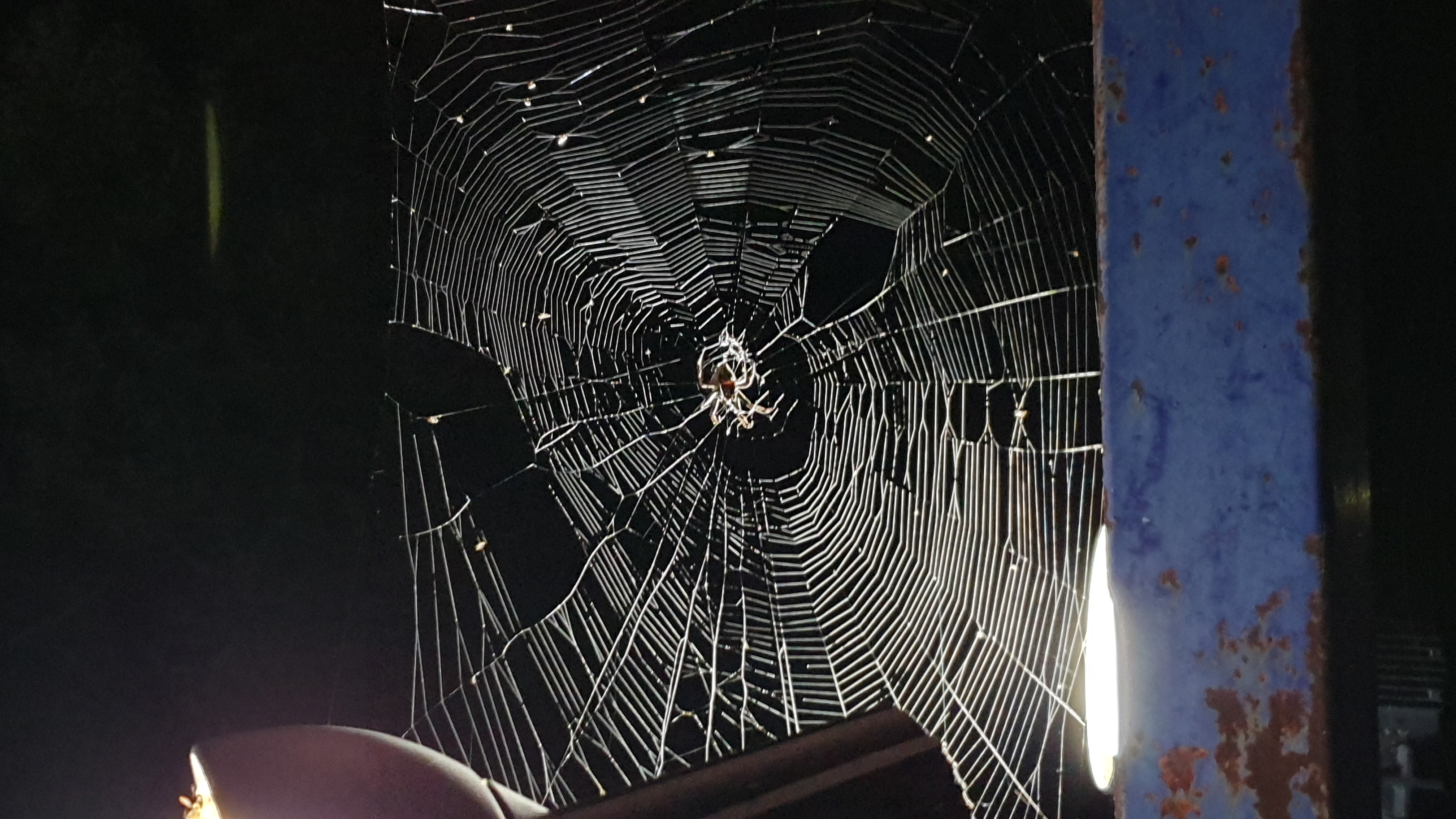 It seems like Onigumo got the sacred gemstones
A bridge which arced above a river was coming towards me. I was extremely tired after the long day. I thought that maybe the side of the paved riverbank which was closer to the river would be a good place to crush, but when I climbed thru I recognized that I will not be hidden enough. On the contrary, while walking towards the bridge I recognized that the rampart was getting deeper, and under the bridge I was completely invisible. Moreover, the bridge protected me from the lights of the streetlamps, from the scorching early sunshine and not to mention from a possible rain too. So, I decided where I would spend my night at. While I was laughing at myself for sleeping under the bridge like a homeless, I put up my tent. But it became a proven solution, so from this time on during my trip, if I could, I went to sleep under a bridge. To no vail, I went to Japan to be a homeless.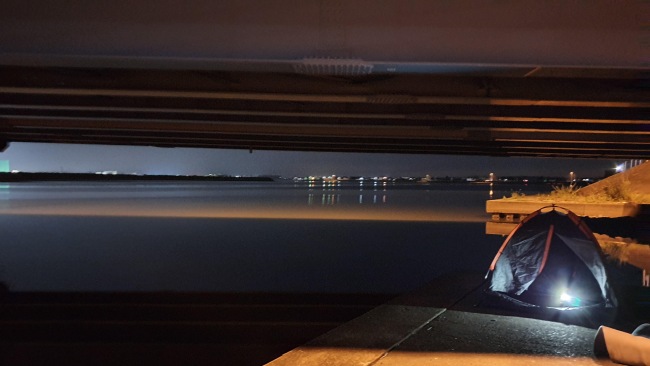 Welcome to my life
This was a very important part; I learnt a lot about hitchhiking. I got the paper and the text necessary for it, and I discovered that it is not impossible to hitchhike for 500 km in a single day. I slept in the forest in the middle of nowhere, by the highway and under the bridge too.  
The next day I was really hitchhiking to Kyoto. Did I ever get there? You will learn about in a little while …