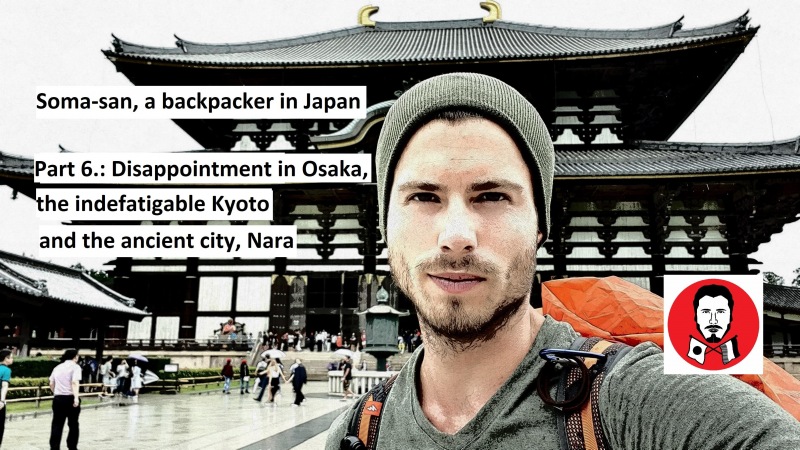 We could read about Soma's 500 km long hitchhiking and the spiritual experiences he lived through in Ise. In this part Osaka, Kyoto and Nara, the iconic cities of Japan will be looked at in details.

Kakehashi: How did your trip continue; how did you get to Osaka?
Soma: I slept quite well under the bridge. After I awoke, immediately walked to the highway, and started looking for a ride to Kyoto. After an hour waiting for a possible ride, I decided  - as nobody stopped for me – to let this idea pass and changed my destination and I rather go to Osaka. This is the advantage of travelling like this. I can modify my plans as I wish, but you must be flexible also. "If the mountain does not visit Mohamed, then Mohamed has to visit the mountain…. There will be examples of such, when because of my destiny, my mood, the weather, or the available ride, I had to act fast and spontaneous. Only a few minutes after I changed my sign, two very pretty girls – Ayano and Shiori-san – offered me a ride. We have been in touch through Instagram ever since. I got out of their car at the Kyocera Stadium in Osaka. Everybody went on their own ways; they went to a concert.
Kakehashi: What kind if impression the metropolis had on you, after visiting the countryside?
Soma: To be honest, Osaka was a great disappointment for me. I found  it to be a huge, crowded industrial city. Of course, the Osaka castle is wonderful, but only from the outside. Because it is a completely renovated building which one big museum. It did not beam with the samurai-feeling which would have been expected. Two young guys at the castle offered their help to walk along to the Dotonbori (a famous entertainment and shopping district with lots of restaurants). The canal itself was very cozy. But for me, for some reason the city felt empty for me. I was bored even thought it was Saturday. Maybe if I had a city pass, a fix place to stay, and I would have been a "regular" tourist then I would have had different impressions. The last drop in "my glass" was I was late with finding my place to spend the night at, which was difficult to find because it was very difficult to find it in this completely crowded urban city. I was soaked because of the rain. At 1 a.m. by the muddy riverbank, close to a huge homeless camp, I gave up on trying to find it. I did not care about anything, I was tired, so I slept there.
The next day, still wet from the previous day, I decided it was enough for me of Osaka. If I ever make it back to Japan the next time, I will try to visit the city again. But now, I should leave it as is. Maybe next time I will like it more. I took the train to Kyoto, where I spent the entire day sitting in a McDonalds. I tried to recompose myself, to dry and plan the next couple of days. I set up my tent on the balcony of an inhabited house.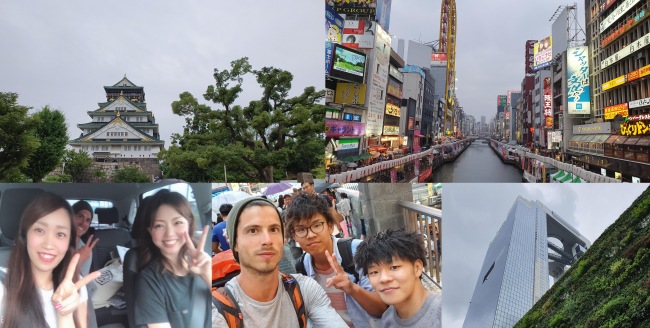 Osaka castle, Dontonbori, Girls and boys,Umeda sky
Kakehashi: As you spent many days here, what sights were you able to visit?
Soma: Kyoto was the capitol of Japan for almost 1000 years. (that is why I do not understand either why nobody offered me a ride, but when I changed my destination to Osaka, I got a ride almost immediately.) Unlimited temples, sanctuaries, gardens. Not even a year would be enough to visit all of  them. Therefore, I had to select carefully and here I chose and focused on the mainstream sights to visit.
Just to list a few, and ONLY the next day order of the sights: the Kaji-sanctuary, the Heian-sanctuary, the Nanzen ji temple, the Zenrin ji temple, the Tetsugaku no michi (the Path of the philosophers, from where you can see the entire city), the Ginkakuji (silver temple), the Maruyama park (in the park is the Chionin temple and the famous Yasaka pagoda), the Kyomizudera temple, and the Fushimi-Inari sanctuary and the Toji.
Does it seem a lot? Yes it was extremely a lot, with 40some kilometers walking. To be honest, I did not visit the Silver Temple, as the Gold Temple is the "original", and I wanted to save some money. I assume everybody had seen the photo of the Yasaka Pagoda. I was so tired by the time I got there, so I believed that it will be the Toji where I can pose for a photo with the Pagoda in the background. I only realized it in the evening. I was stupid to miss it during the day, I could have had the best photo taken in Kyoto. The Kyomizudera was under renovation at that time, but it was a pure wonder from the inside. Just like the Fushimi-Inari was too, which I wanted to see the most. I was hiking on the Fox mountain for 2 hours. This is a place where in despite of the many tourists, someone can get lost. And by walking through the many thousand vermilion red gates one after another, a wonderful feeling comes on to you. Maybe Shintoism can be understood here.
It was getting late, and my knee started hurting, so I took a train back to the downtown. And I got on my way to the Toji. And that is when I realized that I mixed it up with the Yasaka Pagoda. And I ascertained something. Because of the 2020 Olympic Games, Japan started huge renovations and restorations. This was the reason why both the Kyomizudera and Toji were scaffolded why the view was just not what it could have been. I came to realization here that I will run into similar situations during my trip. I walked out to the River Katsura, because I did not find a good place to set up my tent in the city. At this time, I did not dare to set up my tent in public places yet.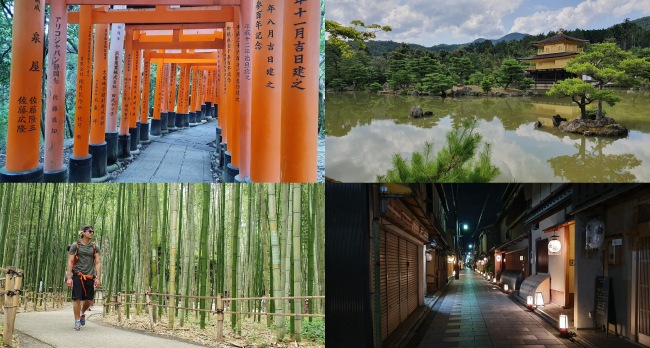 Fushimi Inari with its 20 000 gates, Kingakuji, Bamboo forest, Gion 2
The following day I went to and conquered the Arashiyama bamboo forest and visited the magnificent Kinkakuji (the Golden Temple which really worth to visit). After this, I strolled through the Nishiki market, in the evening I took a walk on the Pontocho promenade and cruised the alleys of the Ghesa district of Gion.
To spoiler my trip in advance, Kyoto became my favorite city in the entire Japan. The sea and the Biwa lake are close, surrounded by mountains, there are lots of sights to see, the atmosphere is great, and people are wonderful. I would love to live there. It is not a big city, but it is still livable. Not as monotone as Nikko or Kamura. In turn it can be seen and felt that you are in the Far-East, not like in Yokohama. For the evening I chose the same spot at the riverbank.
Kakehashi: Why did you plan to visit Kyoto at this time of your trip?
Soma: If it was not for Osaka, I would have arrived a day earlier but all in all, I wanted to be here at this time of my trip. Especially because of the Gion festival which reached its peak on July 17. This is one Japan's 3 large festivals (the other two are: the Tenjin-Osaka, and the Kanda-Tokyo). In rea lity it is like a huge street ball, where mobile sanctuaries are carried around pulled by ropes while chanting. According to the folklore, the festival is meant to calm down the angry Gods. A tiny, interesting fact, that the festival actually does not take place in the Gion district of the city.
In the morning, while I was eating my breakfast by a baseball field while getting ready for the festivities of that day, a man with a bike stopped next to me, his name was Michael, and he was American. He recognized that I am not the average tourist, so he just stopped to ask if I was OK. He was teaching at the Kyoto University. It was clearly visible that during his 20 years of teaching at the university he became Japanese too. Because just as a simple act of kindness, without knowing me, he stopped to ask if everything was OK. He was a very kind man, we talked for a good hour. He said that we could have a drink in the evening at the festival. Unfortunately, after the main attraction in the morning, I was leaving the city, but I thanked him for his offer and kindness. He got back on his bike and rode away. I walked back to the city and watched the parade. It was a big experience. People were pulling huge – some 20-30 meter tall, weighing several tons – carts while it was 35 Celsius degree, and they were wearing colorful ornate outfits and braided rice sandals. The people sitting in these mobile sanctuaries were chanting and clapping.
Late afternoon, when the parade ended, I blew a Platonize kiss to Kyoto as a farewell kiss, because I had to leave for Nara, according to my plans.
I missed lots  of things in Kyoto, but I do not regret it. I am sure, that one day I will come back to Japan, and to Kyoto too. Then I will visit the renovated Toji and Kyomizudera. I will visit the Emperor's Palace and the Kyoto castle. And the sanctuaries and temples of Ginkakuji, Sanjusangendo, Byodoin, Daitokuji, Nishi Honganji Higashi Honganji, the Katsura cottage and …. I could go on and on and on for eternity.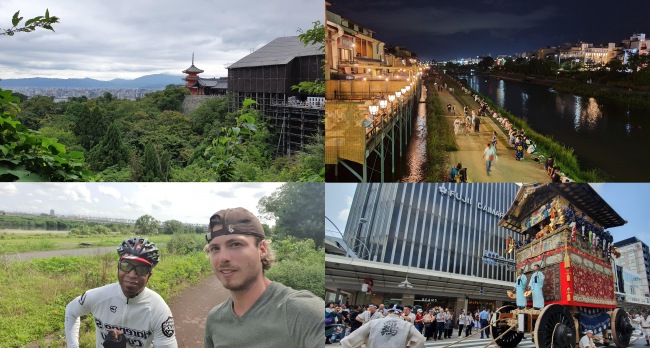 Kyomizudera, Kamogawa, Michael san, Gion matsuri
Kakehashi: What was awaiting you when you got to Nara?
Soma: Halfway there, around 7 p.m. I got tired of walking, and I put up my tent under a bridge in Uji. Next day I hitchhiked to Nara, but for some reason I was so sleepy that I fell asleep during the half an hour trip (I know it was not polite), and even in the Nara park on a bench. Nara is an important station of my journey with its essential sights and the Nara park of course. What is worth to know about the city and the park that deer and fawns walk freely in the city. It is like a huge safari. There are animals everywhere, there their "chocolate balls". They are very peaceful, and they are not afraid of anything which is why they are walking all over the street randomly. And they have developed routines and they are so smart that when someone is presenting them with a biscuit which you can buy right there, they bow and take it from your hand like that. Even the deer are Japanese …  I took a short walk in the neighbourhood around the Kofukuji, but because I was tired and my headache became worse, I went to bed early.
I rested some, but I was not up and ready and smiley. The next day I visited Kasuga Taisha, and the greatest attraction of Nara, the more than 1000 years old Todaiji temple. This is the world's largest temple built ONLY from wood. And the third largest building, and the largest bronze Buddha statue of the world can be found here too. The temple suffered a lot, sometimes fire, sometimes earthquakes, therefore it was rebuilt several times. In its current state it is much smaller than its original size. According to the legends, it used to have 100-meter-tall pagodas too. Which used to be the second largest buildings of the world, right after the pyramids.
The Horyuji temple, the oldest wood construction of the world, unfortunately was very far from the city therefore I plan to visit it during my next trip to Japan in the future.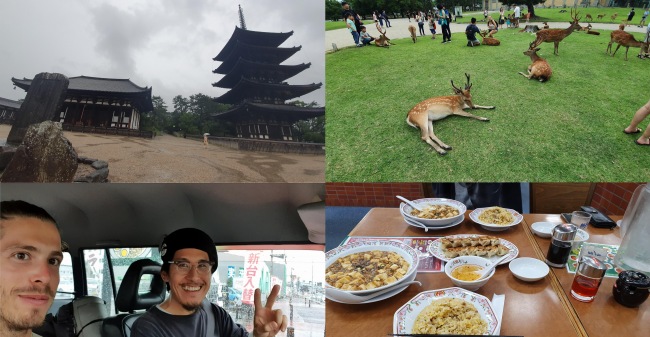 Koufukuji, deers in Nara, Yusaku san, Our fancy dinner
Kakehashi: Where did you sleep that evening?
Soma: After I was done at the Todaiji, I walked to the city limit where to my great joy I found a shopping center. I decided that it was time to take a shower. It was like a real cat-shower. The most beautiful part of it was when I hung a 2-liter bottle on the ceiling of the handicapped bathroom and used it as a shower. Let me just say, that you could see even in the eye of those men who happened to come in there the detestation, the pity, sympathy ( I was laughing at myself) all at once ….
The next stop after Nara was the Saint mountain of Koya and I knew from experience that I have to get at least half of the way up. It was raining cats and dogs, and Yusaku-san was kind enough to offer me a ride. He was something! We were approaching a restaurant, so ha asked if I had eaten at this franchise before? I told him, no I have not. So, we stopped, and he ordered food like a magic table but for the two of us only. I was just looking out of my head like a fish from the plastic bag. They brought the first plate and I told to myself Oh my God this looks awesome.  I would eat this much in like two days. Then the next plate was brought. And then another one, and another one, an another one. And many more. Soup, tofu stew, karaage, salad, rice platter, gyoza. What was left over, he had it packed for me. And of course, he paid for it….
After this, he said that Koya is farther away from here, and unfortunately he will not be able to take me there. But he lives in Gojo which is on the way. He asked me if I had a towel. I told him of course I have one. Then he would invite me to a local Onsen. I thought I was hallucinating because of the huge dinner. But no, we really went with full stomach. This was my first ever experience in a Japanese spa. In Japan, it has its own culture, and it is completely different from ours. There is a separate place for the men, and for the women, and it is done in Adam-costume (naked). It felt very good to take a bath for the second time in one day. And finally, it was a normal bath. After the bath, he offered to spend the night in his house and then the next morning he would take me to the top of the mountain. He is an entrepreneur, so he sets his own timetable.
I met really wonderful people until this time. Everyone was caring, and generous. Besides Osaka, I only had good impressions about Japan and the different cities. I need to note that it was my fault. The following day, Yusaku-san took me to the mountain. But you can read about those events and experiences in the next part of my journal!